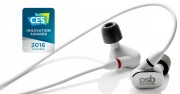 PSB Speakers has been named a CES 2016 Innovation Awards Honouree for their M4U In-Ear Monitor, as part of the Innovations Design and Engineering Showcase at CES Unveiled in New York City, a media preview event for CES 2016 in January.
New York, NY, November 10, 2015 (Newswire.com) - PSB Speakers, long renowned for affordable excellence in acoustic design, today announced that it has been named a CES 2016 Innovation Awards Honouree for their M4U 4 In-Ear Monitor (IEM). The award was presented as part of the Innovations Design and Engineering Showcase at CES Unveiled, a media preview event in New York City. This prestigious award is sponsored by the Consumer Electronics Association (CEA)®, the producer of the International CES, the world's largest consumer technology tradeshow, which has recognized achievements in product design and engineering since 1976.​
The PSB M4U 4 ($299 MSRP) is a unique, two-way hybrid design and the company's first In-Ear Monitor IEM. It features a moving coil dynamic low frequency driver and a balanced armature high frequency driver controlled by a precision crossover network. The M4U 4 comes in choice of stylish Black Diamond or Arctic White finishes and became available this past summer. 
"We are truly proud to be an honoree in the prestigious CES Innovation award" said Dean Miller, President & CEO of Lenbrook Americas. "The M4U 4 is PSB's first in-ear monitor and has already received accolades from all who have experienced it. This product is another example of the decades of Paul Barton's cutting-edge research at Canada's prestigious National Research Council (NRC). Awards like CES Innovations confirm that PSB's painstaking efforts are well rewarded."
PSB Performance
The M4U 4 incorporates balanced armature drivers with very low moving mass making them ideal for reproducing high frequencies with great transient response and detail. Musical textures are finely wrought, bringing great insight into the music and clearly delineating individual instruments and their unique voices. The precision BA driver used in the M4U4 is individually calibrated to meet the exacting response tolerances of this In-Ear-Monitor. A wave-guide is used to link the sound tube of the BA driver to the woofer, creating time-aligned driver integration. A miniature PCB using surface mount parts creates the electrical crossover network that divides the signal between drivers.
The moving coil dynamic woofer is no less unique, tuned for accurate response with three separate chambers, creating an aperiodic loading that smooth's response and suppresses resonances.  The result is deep, deep bass response that is punchy and crisp without sounding fat or boomy. 
Voiced for a flat, neutral response, the PSB M4U 4 was developed at the NRC (National Research Council of Canada) using the KEMAR dummy head testing system, with the addition of low frequency room gain that one would expect to hear with normal loudspeakers in a room. This is the same room gain compensation transfer function that was developed in the ATHENA PROJECT at NRC.
These findings have led PSB to a unique feature the company calls, RoomFeel™. RoomFeel makes music sound more natural by taking into account the effects of the room on music playback. Almost all recorded music is monitored using direct radiating loudspeakers to determine the acoustic balance for the final mix. So the transfer function PSB developed for its M4U 4 headphones takes into account the "room gain" that occurs when playing direct radiator loudspeakers in a room. The result is a much richer, more immersive and more natural listening experience. 
Comfort and Ergonomics
The M4U 4 was ergonomically designed to be comfortable even when worn for long periods of time. Comfort was paramount in the M4U4's development, which led to several useful features.  First of all, the cord is detachable and the IEM's are reversible. The user has a choice of looping the cord over and behind their ear, or they can swap the left for right color-coded cord to allow the cord to drop down in front of the ear. 
Three sizes of soft inserts are included to fit any size ear canal, and two types are provided; soft silicone and Comply Foam™ with wax guards.  Comply foam is extremely comfortable, precisely fitting the individual ear canal and forming an air-tight seal that blocks outside noise and provides amazing bass extension. Silicone tips are also comfortable and can be cleaned and reused indefinitely.
Convenience and Ease of Use
The M4U 4 can be easily stored and transported in a semi-hard travel case. M4U 4 features a unique detachable cord with a removable shirt clip. Two tangle-free cords are supplied, one is made for iPhone with convenient microphone and telephone controls. Also supplied are a 1/4 inch adaptor and a dual 1/8 inch airplane adaptor.
The PSB M4U 4 will be displayed at Innovations Showcase at the Sands Convention Center during the 2016 International CES, which runs January 6-9, 2016 in Las Vegas, Nevada. PSB will also be exhibiting at CES with parent company Lenbrook in the Venetian Hotel Suite 34-204 where the M4U 4 will be available to audition. 
The Innovations entries were judged on the following criteria:
·      Engineering qualities, based on technical specs and materials used
·      Aesthetic and design qualities
·      The product's intended use/function and user value
·      Unique/novel features that consumers would find attractive
·      How the design and innovation of the product compares to other products in the marketplace
·      Products chosen as an Innovations honoree reflect innovative design and engineering of the entries. Examples may include the first time various technologies are combined in a single product or dramatic enhancements to previous product designs.
·      Innovations 2016 Design and Engineering honoree products are featured on www.CESweb.org/Innovations, which lists product categories, as well as each product name, manufacturer information, description, photo and URL.
​Media Relations Contact
​​Email: media@psbspeakers.com
ABOUT PSB SPEAKERS
 Founded by Paul Barton in Canada in 1972, PSBSpeakers rose to prominence in the loudspeaker industry as a company dedicated to delivering real sound for real people. This dedication to performance plus hard work over the years has made PSB an award-winning company with a loyal following of owners throughout the world who praise the company's high-value, world-class speakers.
www.PSBspeakers.com
www.twitter.com/PSBspeakers
​www.facebook.com/PSBspeakers