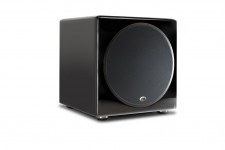 Legendary Canadian brand delivers both performance and affordability for music and home theatre LF applications.
SAN DIEGO, September 5, 2018 (Newswire.com) - PSB Speakers, long renowned for affordable excellence in loudspeaker design, debuted two new innovative subwoofers under $1000 that offer outstanding performance and value. The SubSeries 350 ($999 U.S. MSRP) and SubSeries 250 ($699) are compact yet powerful designs that will deliver superb performance in either music or home theater systems. Housed in stylish gloss black, cubic cabinets, the latest designs feature new 10" and 12" drivers powered by Class D MOSFET amplifiers for high efficiency and low energy use. The new PSB subs are available for immediate delivery from Lenbrook.
Both the SubSeries 350 and 250 employ "green" and powerful Class D discrete MOSFET amplifiers that use less energy to produce more power while reducing standby power to an industry low. Their "smart bass" limiting circuitry prevents the woofer and amplifier from being overdriven with any input level.
PSB's new SubSeries 350 Subwoofer ($999) with its 12" woofer offers extensive musicality and high-powered bass impact. Capable of 300 watts of continuous power and dynamic peaks of 900 watts, the SubSeries 350 offers a winning combination of power, high impact bass, and musicality.
The new SubSeries 250 Subwoofer ($699) offers extensive musicality and high-power bass impact with an all-new 10" driver. Capable of 200 watts of continuous power and dynamic peaks of 600 watts, this is one potent sub sure to please audiophiles who demand performance and value.
Advanced Amplification
The SubSeries 350 and 250 employ advanced Class D MOSFET amplifiers specifically for this application. The design is also highly efficient and includes a very low power (<0.5W) standby mode, making the woofer instantly available yet very low in power consumption.
Like all PSB speakers, final voicing is performed by Founder and Chief Designer, Paul Barton, at Canada's famed National Research Council. PSB's research has discovered how listener preferences can be integrated into a wide range of speaker designs for many different applications, yet all featuring consistent sound quality that is natural and lifelike.
"Whether for music or movies, a well-designed, properly integrated subwoofer can be the difference between good and exceptional sound," commented Paul Barton, Founder and Chief Designer of PSB Speakers. "The SubSeries 350 and 250 feature trickle-down fit and finish from the SubSeries 450 and utilize the same proven methods that PSB has employed for decades. The result are subwoofers that are powerful, precise and truly exciting to experience." 
Key Features of the PSB SS350 and SS250:
PSB's latest subwoofer designs combine performance with value
Class D MOSFET amplification; green and highly efficient
Sealed cabinet designs
Continuously variable phase control for more precise tuning with satellite speakers
Wide frequency range subwoofer crossover control allowing for a wider range of satellite speaker sizes
USB power source connector for use with optional RT100 wireless transmitter/receiver
Speaker and line level inputs and outputs provided, as well as line level LFE inputs
Line level outputs are high-passed at 80Hz @ 12dB/octave
Customised rubber feet isolate vibrations and make a strong foundation for the subwoofer on any surface
Stylish, curved, gloss black cabinet
Final voicing performed by Paul Barton at Canada's famed NRC
Visit PSB the Lenbrook booth # 5435 at the upcoming CEDIA Expo in San Diego, Sept. 6-8, 2018. 
About PSB Speakers
Founded in 1972 by renowned speaker designer Paul Barton, PSB is a leading global speaker brand, now celebrating more than 40 years. Currently sold in more than 70 countries around the world, for music or movie listening, the company has set the standard for high-performance, high-value speakers. 
Marketing and Media Contacts:
Mark Stone
Manager, Distributor and Dealer Relations
E: mstone@lenbrook.com
Peter Hoagland
US Media Relations
E: peter@hoagland.us
Richard Stevenson
UK Media Relations
E: richard@rogerswood.co.uk
Source: PSB Speakers